top
> About the Ashiro Region

About the rindo flower
The rindo flower has long been loved in Japan. A deep cultural history of being revered by our ancestors as the flower placed at graves, the flower is also popular for use in flower arrangement, which celebrates autumn flowers.The rindo is a flower that represents autumn in Japan but in recent years the flower is also used as a gift flower in buquets and autumn-themed bridal scenes highlighting its brilliant blue color.
| | |
| --- | --- |
| Name | Rindo |
| Scientific name | Gentiana triflora |
| Family name | The gentian family gentian |
| Class | perennial |
| Flowering season | September-November |
| Etymology | A root was called a gentian (RYUTA N), and bitterness was auburn and hard, was used as medicine for the digestive system traditionally. A gentian was called from a name of "dragon" of the best imagination dominance by an animal in China by an animal of dominance more than a bear because it was more bitter than a liver of a bear (Of a bear, I was here.) The gentian is corrupted, and it's said that the vegetable name was "Region". |
---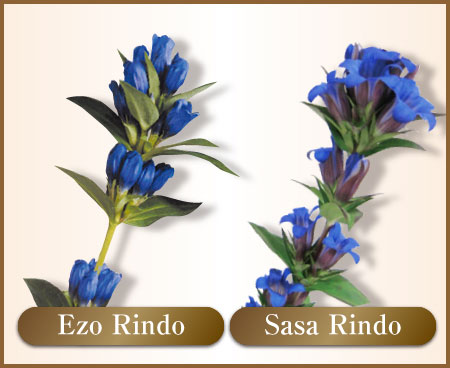 Flower blooms in two waysThere
waysThere are largely two types of rindo in wide distribution, the "Ezo Rindo" and the "Sasa Rindo".
New breeds are created by mixing these two types. Combining Ezo Rindo results in a bloom where the crown of the petal opens in a cylinder shape.With a combination of Sasa Rindo, the flower blooms with the petals curling widely and outward. Various blooming patterns are possible depending on the combination of Ezo and Sasa.
Enjoy the rindo for the characteristics of each type of bloom that will differ depending on the flower type, breed, and blooming period.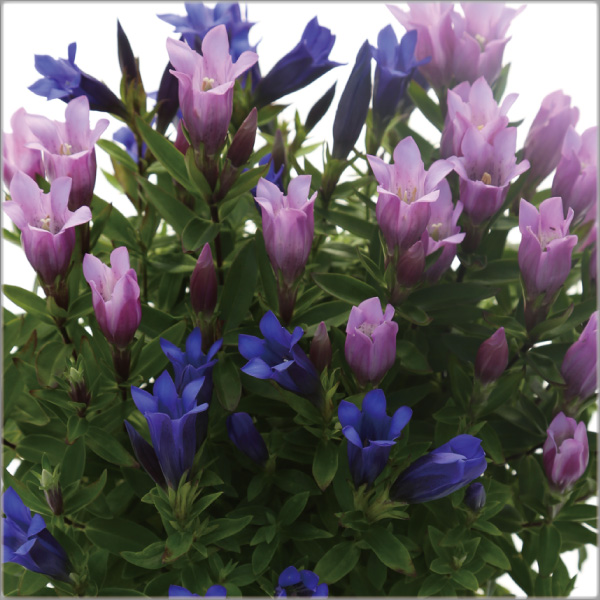 About the characteristics of the Ashiro Rindo

Boasting a domestic market share of over 35% and Japan's largest production volume, the Ashiro Rindo is cultivated and grown in the city of Hachimantai in Iwate Prefecture. The Ashiro Rindo is a proud Japanese global flower brand that is incredibly popular both domestically and around the world.All are original breeds. From cultivation to production and shipment, we maintain quality through our universal production system to deliver high-quality flowers to the domestic and international markets.
---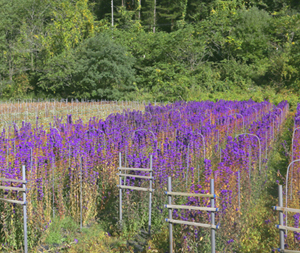 No. 1 in Japan in both production volume and cultivation land area
Rindo flowers produced in Iwate Prefecture. The Ashiro Rindo produced in Hachimantai boast the No. 1 cultivation land area, production volume, and sales volume in Japan. Originally a flower that was native to moutain regions, full-scale cultivation of the flower in Iwate Prefecture began in the late 1950s. From the 1960s, organized cultivation began out of Yashiro-cho(presently Hachimantai). The Ashiro Rindo is a high-quality flower that demonstrates vast temperature contrasts and achieves excellent color expression. We cultivate and ship original breeds representative of the local culture to customers around the world.

The Ashiro Rindo are all original breeds.
Below, we introduce the breeds (cut and potted flowers) and shipment periods.